The holiday season is in full swing. It is important to keep your pets safe during this busy time of year.
While you're enjoying things like time off from work, family gatherings, shopping for gifts and everything else December related, we'd like to take a moment of your time to remind you about our furry friends and how the holidays affect them this time of year.
Here are some tips to follow to make sure your pooch has as much fun as you do during this Christmas season:
Here are 5 Holiday Pet Safety Tips
1) Holiday Food: Keep harmful holiday food out of reach from your pet. Holiday candies and chocolates are dangerous to your pet's health. Also, many find it difficult to resist treating their pets with table scraps. Below is an infographic from Petco, illustrating what's safe and what's not safe to feed your pets
2) Holiday Decorations: Tinsel and bright holiday balls can be interesting to your pet. Cats are known to consume tinsel, which can cause an intestinal blockage and requires surgery. Keep your curious pet in mind when decorating your home.
3) Holiday Plants bring beauty to your home decor but dangerous for your pet. Did you know some holiday plants are poisonous to pets? 5 Holiday Plants to avoid: Poinsettias, Mistletoe, Holly, Amaryllis, and Pine Needles.
4) Holiday Lights, Glowing & Scented Candles: Twinkling and colorful lights can be appealing to pets. Make sure to unplugged the light when not home. Also, many pets are often tempted to chew electrical cords. For precautions, always check your holiday lights for frayed wires, cracked or loose bulbs.
Candles helps set the holiday mood but poses dangers to your pets. Make sure to place lighted candles on a hard to reach spot. As an alternative, you can use a battery operated candle.
5) Holiday Ribbons: It's cute to use it as a decorative Holiday collar but it can cause your pet to choke. Ribbons can be intriguing, be extra careful as pets can potentially ingest it.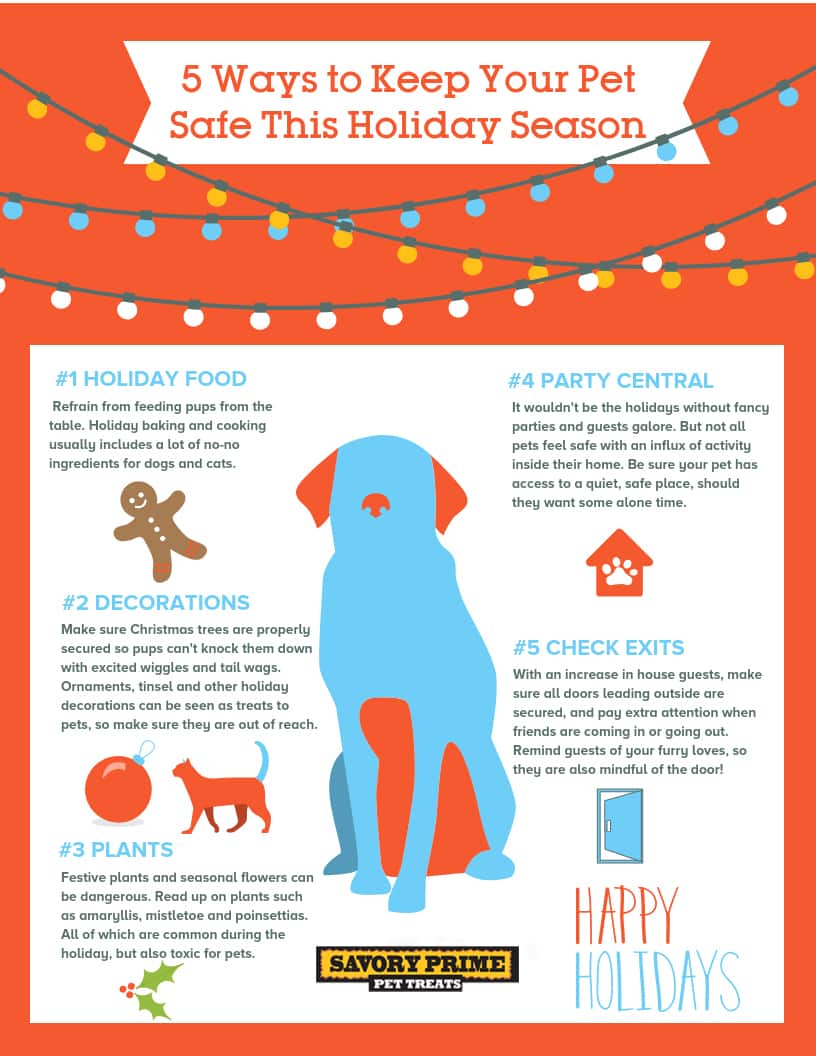 Wishing everyone and their pets a Merry Christmas and Happy Holidays from Savory Prime Pet Treats!